Journaling E-book
You can empower yourself!

Discover the power of intentional journaling.
Are you ready for more clarity, connection, creativity and control?

There's magic in journal writing!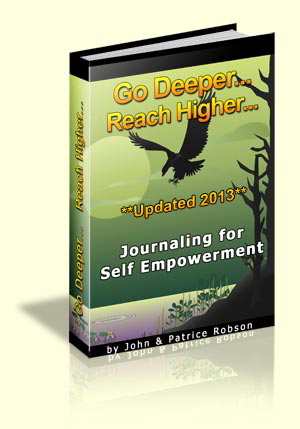 Journaling is one of the most powerful tools for self-growth. Simple but effective, journaling can help you:
release pain, frustration and negative emotions like anger and fear;
clear confusion and make good decisions more easily;
grasp valuable insights that clear blocks and move you forward;
spark your innate creativity;
uncover and nurture a bigger picture for your life;
reach new heights in self empowerment.
If you value journaling, you'll love intentional journaling!
If just writing down your thoughts is helpful, imagine the potential when you intentionally focus the incredible powers of your conscious and subconscious minds' When you intentionally invite the quiet voice of intuition to speak through your writing.
Focused, purposeful journaling tools work wonders!

Why is journaling so powerful?
Journal writing captures our thoughts and feelings on paper. This shows us how we think, create, learn and intuit. When we can see what we're thinking, we can work with our thoughts in new ways. We break through our habitual patterns to discover our innate wisdom and creative genius. And when we do this, our lives transform.
Journaling is a potent self-help tool even when used casually. And when we understand how it works, and use it by design, its power to heal and expand our abilities grows exponentially.
To order your own copy of the Journaling for Self Empowerment E-book with 30 days of support emails, visit Higher Awareness.

Teach others to journal!
Inspired to help people apply journaling tools to any area of life that interests you? Transfer your love of journaling into a part-time business for yourself. Take our journaling facilitator training and earn an income helping yourself and others grow.
Helping you to be your best!
We each walk our own paths in life, and so we need to stop looking to others for help. We need to begin to trust ourselves for guidance. With journaling, we draw out our own inner wisdom.
We know the value of journaling for self growth. To support you in being your best, we are committed to bringing you quality journaling tools. Go deeper Reach higher you'll never look back!


And we stand behind our quality. Find value in our product or your money back. Guaranteed!
Best wishes on your life journey,

John Robson
P.S. Just think! The next time you find yourself hassled, confused or in pain, you'll know how to get yourself out of it!